Emily Dickinson's
Poems
(Little, Brown 1901). More
here
.
1) Janet Holmes
THE MS OF M Y KIN
(Shearsman, 2009), an erasure of Dickinson's Civil War poems,
here
. More pages
here
, Holmes discusses her project
here
, Ron Silliman discusses it
here
, and p. 98 is below:
2) Kiki Smith's Emily Dickinson
Sampler
(Arion Press, 2007) -- 200 of Dickinson's poems with prints by Smith. More
here
and
here
.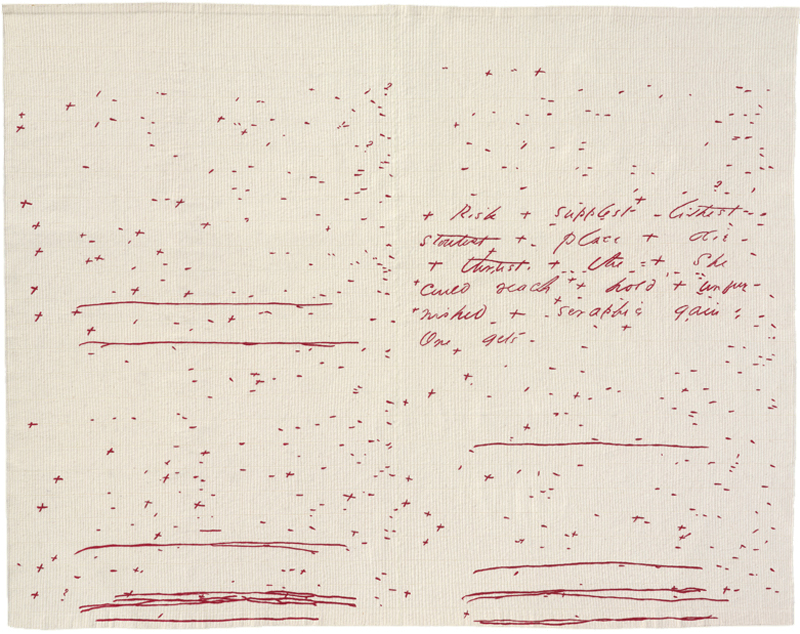 3) from Jen Bervin's
The Dickinson Fascicles
(2004-2006?). More
here
. Published as
The Dickinson Composites
(Granary Books 2010),
here
.
4) Roni Horn's
When Dickinson Shut her Eyes--For Felix; No. 352
(1993),
here
. More
here
,
here
, and
here
.
5) Paul Legault's
English-to-English Translation of Emily Dickinson's Complete Poems
(McSweeney's, 2012). Legault explains
here
, "The Dickinson translations are a joke that became serious—or at least became an extended joke that wasn't over until I "translated" all 1789 of them into basic English." Watch the video
here
.
6) See also Laura Wetherington's chapbook
Dick Erasures
(Red Ceilings Press 2011).