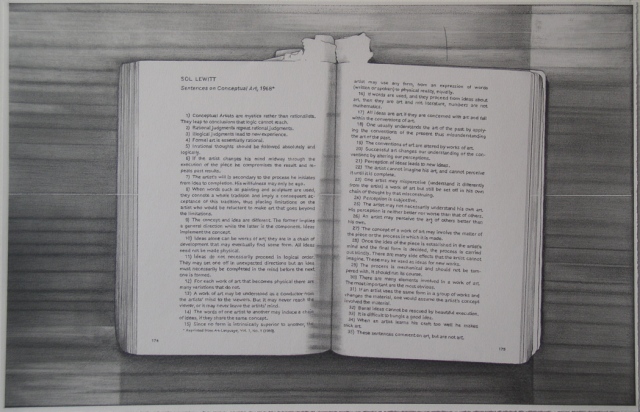 1. Molly Springfield's
Sentences on Conceptual Art, 1968
(graphite & paper, 2007), from her series "The World is Full of Objects," "exquisitely rendered drawings of photocopied books, after Douglas Huebler's 1969 statement 'The world is full of objects, more or less interesting; I do not wish to add any more.'" See more at her
site
,
here
, some discussion
here.
Plus, Springfield's version [
Translation
] of
In Search of Lost Time
(from Siglio Press's
It Is Almost That: A Collection of Image + Text Work by Women Artists and Writers
),
here
.
2. Also related, from
The Benjamin Project
(~2009),
here
, more images
here
. "In Dafen, China, the world's capital city for copying works of art, [the Berlin collaborative group] Empfangshalle has commissioned artists to make paintings derived from every double page of Walter Benjamin's essay, 'The Work of Art in the Age of Mechanical Reproduction.' 38 paintings in total where every letter, the fine structure of the paper, the way the lines shimmer through on the other side, the fold and other details, are recorded by the Chinese artists – each in his or her own way. Every work is created by a different workshop, a different painter, every painting marked with the painter's unique signature,"
here
. Walter Benjamin's 1936 essay,
here
.